First Allen Iverson, now Tracy McGrady. Less than a week after word surfaced that A.I. was hanging it up for good, T-Mac, another of the best early-2000s players, called it a career. But is it one good enough to put him in Springfield? We weigh in on that and more.
1. What will you remember most about Tracy McGrady?
J.A. Adande, ESPN.com: This goes against my Principle of Peak Preservation, but my overwhelming McGrady memory is him at the end of the Spurs' bench at the end of his career. He was at peace with his reduced role, and more remarkably in this cynical age, NBA fans were happy for him to just be on a roster with a chance at a championship. He meant a lot to a lot of people, and that's probably the best validation of his career.


Bradford Doolittle, ESPN Insider: It'll be that 2002-03 season, when a 23-year-old T-Mac was Doc Rivers' lone soldier and put up a season for the ages. Grant Hill's injury problems in Orlando consigned McGrady to mediocre teams during his best years and led his eventual tag as the guy who can't get out of the first round. However, it also gave him free rein in Rivers' offense, and he responded with 23.5 wins above replacement and 32.3 points per game. That's getting near LeBron James territory, though of course James does it every year.


Israel Gutierrez, ESPN.com: Three things. First, the pull-up 3-pointers. He was never the most efficient outside shooter, in part because he took these. But for some reason, every one he launched still felt like it was going in. Second, the self-pass-off-the-backboard dunks. He owns that move. Third, his ridiculous explosiveness in his Orlando days. Could dunk on anyone, off one leg or two.


Curtis Harris, Hardwood Paroxysm: I grew up in Houston a die-hard Rockets fan during McGrady's time with the team, so what I'll remember most are the injuries. It's unfair given his great career, but it's the first thing that comes to my mind having witnessed it firsthand.


Ethan Sherwood Strauss, TrueHoop: His game was smoother than a round ice sculpture. Few players looked so great while being great, and almost no one moved with McGrady's grace at McGrady's height. In 2002, he was the future, a giant scoring wing with size, handle and an effortless shot. The game came easily to McGrady back before winning proved difficult.


---
2. What's T-Mac's greatest accomplishment?

A. Scored 13 points in 35 seconds to beat the Spurs.
B. Posted 30.3 PER in 2002-03 (one of seven modern players to post 30-plus PER).
C. Named to All-NBA team seven times.
D. Won two NBA scoring titles.
E. Led Rockets to 22-game winning streak in 2007-08.
F. Choose another accomplishment.


Adande: I'll go with A, 13 points in 35 seconds, because that resulted in a victory. So many of his achievements felt empty because they didn't correlate with team success, but watching him single-handedly salvage a near-impossible W was a moment when all of his potential was realized.


Doolittle: I'll go with F to debunk the myth about McGrady choking in the postseason. Just eight players averaged 30 or more points during at least four separate playoff seasons: Kareem Abdul-Jabbar, Elgin Baylor, Kobe Bryant, Wilt Chamberlain, Allen Iverson, Michael Jordan, Jerry West and ... Tracy McGrady. Unfortunately, McGrady wrecked his career postseason scoring average by getting just 25 points in 12 games over his last two seasons for Atlanta and San Antonio. Before that, his 28.5 playoff PPG ranked fifth all time.


Gutierrez: A. Scored 13 points in 35 seconds to beat the Spurs. It's probably more in the "most memorable" category, but it was amazing. It came mostly against the defense of Bruce Bowen. It included a four-point play. The game winner was just a ridiculous pull-up 3 fading to his left over a bunch of Spurs. And technically he did it in 35 seconds, because he hit the game winner with two seconds to spare.


Harris: He had many great moments, but T-Mac's greatest accomplishment was B, the 2002-03 season. He had a PER over 30 and dragged a Magic team with Darrell Armstrong and Pat Garrity as his sidekicks to the playoffs. McGrady then lifted Orlando to a 3-1 lead on the top-seeded Detroit Pistons before losing in seven games. The Magic had no business being up in the series or even making the playoffs, but McGrady was a juggernaut that season.


Strauss: A. Scored 13 points in 35 seconds to beat the Spurs. It's the only distinct "you remember where you were" moment. My friend and I sprinted out of our freshman dorm to alert the entire hall to what just happened. Nobody cared because basketball was in its post-Jordan malaise, but to those who saw it, T-Mac's comeback was an incredible event. I've rarely had more fun watching this sport.


---
3. Is it fair to say T-Mac didn't live up to his potential?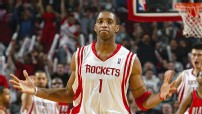 Adande: Yes, but it's also fair to say he didn't have the chance to live up to his potential because of his back and knee injuries. He got to play only 65 games total in two seasons when he was 29 and 30, at what should have been the peak of his career.


Doolittle: No. When he was healthy, McGrady was in the conversation for best player in the game. For four straight years, he was in the top four of the league in WARP, and in that '02-03 season, he was first. You can't ask for more than that. I think it is fair to say that between his knee problems and the injury woes of his Magic and Rockets teams, McGrady's career was ultimately disappointing because of rotten luck.


Gutierrez: If it's fair to say that about any injury-prone athlete, then yes. He could've given us a lot more if his knees and back had held up. And his numbers should've translated into more postseason success. But that wasn't entirely in his control. It would've been nice to see what he and a healthy Hill could've done in Orlando.


Harris: That's an unfair statement. It's insane to say he wasn't living up to his potential when you look back at his production in the early 2000s. The problem is that he didn't maintain that level of play because of injuries.


Strauss: Yes, but it's also fair to say his back didn't live up to its job. Perhaps McGrady should have gotten more out of his talent, but injuries complicate that judgment. T-Mac certainly didn't live up to his potential, but it's an open question as to whether that's his fault or his body's.
---
4. Should McGrady go into the Basketball Hall of Fame?
Adande: This is similar to Hill, whose years among the elite were cut short by injuries and who never made it past the first round of the playoffs in his prime. But Hill has his college exploits to pad his résumé and make him a lock in my mind. McGrady's case is iffier, but six seasons among the league's top 10 (first- or second-team All-NBA) would be just enough to get my vote. For a while there was a legitimate debate between McGrady and Kobe Bryant. A spot in the Hall of Fame would be a way to remember those times.


Doolittle: It's a tough case. I did a study a few years ago and found that a player is basically a no-brainer for the Hall at 170 career WARP. McGrady finishes with 149. He's a solid candidate, but he's in the gray area where intangible arguments such as his relatively short peak and lack of team playoff success start to enter into the equation. In the end, I think he should be in. Eventually.


Gutierrez: Yes. Every eligible scoring champion is now in the Hall of Fame except Max Zaslofsky (1948), and McGrady won it twice. Plus, he had seven straight seasons of at least 24.4 points, 4.8 assists and 5.3 rebounds. Even without being the most efficient player ever, that's Hall of Fame-worthy.


Harris: Absolutely. The Hall of Fame should be about the game's greatest players. For a solid five-year stretch, McGrady had one of the best runs of any player in league history. You can't possibly discuss the NBA of the 2000s, at least knowledgeably, without mentioning McGrady's integral place.


Strauss: Yes. The Hall of Fame is nearly as arbitrary as a raffle, so at a certain point, these questions are about personal preference. My defense of T-Mac's Hall entrance is that his 2002-03 season was an all-timer, and it came during an era when perimeter defense dominated perimeter offense.


---
5. Will McGrady go into the Basketball Hall of Fame?
Adande: An ESPN Stats & Info tweet provided the best indication: The other 15 retired players with at least 18,000 points, 5,000 rebounds and 4,000 assists are all in the Hall.


Doolittle: I think so, but it might take a few years for him to get there, à la Bernard King.


Gutierrez: Yes. It doesn't help that he had no college career or that he wasn't on any Olympic teams, but he has had a more impressive NBA career than a handful of Hall of Famers. It should be an easy decision.


Harris: Probably not. Walt Bellamy was the last NBA player without great playoff success inducted. That was all the way back in 1993. I fear McGrady's deserving candidacy will be scuttled by the misinformed slogan of "He never got out of the first round!"


Strauss: No. Hall voters like some playoff success. There's sympathy for how T-Mac was stuck on bad teams, with a bad back, but not enough to override the sense that he wasn't a winner. Also, what would he talk about in his speech? Yao's sense of humor? — ESPN article | Published on August 22nd, 2013
KONGRATULATIONS to Tracy McGrady!
7× NBA All-Star (2001–2007)
2× NBA scoring champion (2003, 2004)
2× All-NBA First Team (2002, 2003)
3× All-NBA Second Team (2001, 2004, 2007)
NBA Most Improved Player (2001)
Mr. Basketball USA (1997)
FIBA Americas Championship Gold (2003)
Enshrined into the
Naismith Memorial Basketball Hall of Fame
on
September 7th, 2017